Our award winning Ravishing Rosé delivers flavours of strawberries and raspberries with nuances of cassis and candy floss.  It is a food friendly wine ideal for sharing with family, friends and every great time.

Gold Medal
Gold Wine Awards (South Africa)
Best Buy (88 Points)
World Wine Championships (USA)
WINEMAKER'S NOTES
Varietal: Pinotage Rosé
Wine of Origin: Western Cape
Alcohol: < 12.5 %/vol
Residual Sugar: < 5 g/l
TA: < 6 g/l
VA: < 0.5 g/l
FSO2: < 40 mg/l
pH: < 4
Oak: Lightly oaked
PACKAGING FORMATS
Glass Bottles: Lightweight 750ml glass bottle
Bag in Box: 3 Litre Bag in Box
Other Formats: Available upon request
TASTING NOTES
Appearance
Rich radiant palates of pink whisper of things to come.
Nose
Rich radiant palates of pink whisper of things to come.
Taste
Satisfying sensations of strawberries and orchard cherries finessed by mid-palate nuances of raspberries and strawberries with trailing tones of cassis and vanilla in a vibrant, refreshing finish.
FOOD FOR THOUGHT
I am a versatile, food friendly wine. Enjoy me with seafood, chicken, pasta and shellfish.  I go well with grilled vegetables, salads, appetizers, picnics and every great time.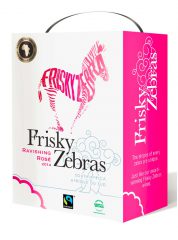 (click to enlarge)